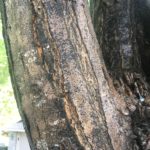 Are your maples losing their leaves in the middle of the canopy? That is typically a sucking insect called gloomy scale. Gloomy Scale is easily treatable but if left untreated will often kill the tree.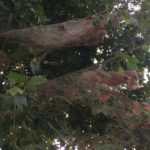 Do your trees have webs on the branches? There are treatments that can help. To be most effective treatments are made before tents emerge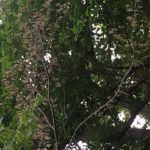 Dutch elm disease is a major killer of elms in our area. We highly recommend prevention treatment for this disease. Prevention injections typically last three years and are over 90% effective. Once a tree contracts dutch elm disease the treatment protocol is very invasive and only 10-20% effective.
NUTRIENT DEFICIENCIES
Are your trees leaves yellow instead green? Yellow or off color leaves are often an indication of an iron or other nutrient deficiency.
GROWTH REGULATORS
Growth regulators are used for two reasons. One is to reduce the rate of canopy growth to extend pruning cycles or reduce need for pruning. The second is to aid in a trees stress response due to construction, drought, or other major stressors. It can help shift the growth balance from canopy to fine root growth and increase a trees chance of survival. It is critical that the dose be properly administered for the species and size. Not all species are receptive.
DOGWOOD ANTHRACNOSE
Are your dogwoods leaves wilting and turning brown? That typically will be Dogwood anthracnose or drought. Dogwood antracnose is preventable to a degree.
EMERALD ASH BORER
Emerald Ash Borer is a highly invasive pest introduced from Asia that is unique in that it will attack healthy ash trees and once in an area will kill 95% of untreated ash trees. Currently has not been discovered in NWA but has been discovered in Delaware county Oklahoma and Central Arkansas. Depending on the specimen there are times proactive treatments can be recommended.
Is a woodpecker that drills small holes in either vertical or horizontal lines to drink the sap. They generally do very little damage to the tree. These holes are different from borer holes in that they are always in straight lines. They generally affect Maple, Pecan and sweet gum trees but occasionally others.